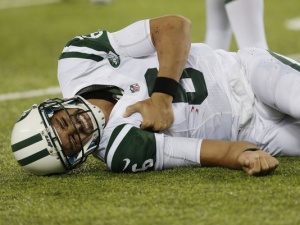 In the annals of New York Jets misery, there are many chapters. The Dan Marino fake spike. The losing. The losing. And did I mention the losing? Plus, more recently, there was the butt fumble. Now, there is a new chapter: Rex Ryan's sheer, unadulterated, blazing, magnanimous, dumbfounding, putrid, sheer moment of lunacy.
'Meaningless game'
Mark Sanchez came into a meaningless game with 11 minutes to go. Geno Sanchez—sorry, Geno Smith—had tossed three interceptions and inexplicably stepped out of the end zone for a safety. Clearly, Sanchez had won the job. It was his. Geno Sanchez—sorry, Geno Smith—had pooped the bed. He was done as a potential starter.
What does Ryan do? He plays Sanchez against third-stringers when he doesn't have to. He shouldn't have. Sanchez, in typical Jets fashion, got obliterated, and he had to leave the game with an injured shoulder.
'Isn't ready for the NFL'
It doesn't matter if Sanchez recovers or isn't seriously injured (he was getting his shoulder examined after the game). The decision itself is almost a firing offense. Smith clearly demonstrated he isn't ready for the NFL. He's a rookie; that's expected.
So Ryan sent his starting quarterback into a game that means nothing, knowing that Geno Sanchez can't play a lick and that Greg McElroy is the only other option if Sanchez misses time.
Well, when do you think will the New York Jets' losing streak end? And what sensational blunder will Rex Ryan commit next?
Source: Mike Freeman | Bleacher Report
Image: USA Today