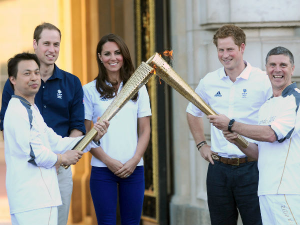 The Duke and Duchess of Cambridge – along with Prince Harry – officially greeted the Olympic torch on Thursday outside Buckingham Palace as large crowds gathered in London to watch the relay through the city.
The flame was was met by Prime Minister David Cameron earlier on Downing Street before it ended up in Hyde Park, where 60,000 people gathered to watch as the final torchbearer lit a cauldron, BBC News reports.
Earlier in the day, the royals flaunted their sporting skills – and spent some quality time with kids – at the launch of a sports-related charity. William and Kate, both 30, and Harry, 27, visited Bacon's College to launch the Coach Core program, a partnership between their foundation and the Greenhouse charity that will help train the country's future youth-sports coaches.
They didn't just watch the action, either. On the eve of the London Olympics, William kicked a soccer ball around, Harry shot hoops in the gym and Kate tried her hand at table tennis. For her ping-pong game, Kate played against Hiba Feredj, 13, the current English schools under-13 champion. Kate won two points out of 10 – raising her hands and cheering when she hit a winner.
Then Kate – in a gray dress from the store Hobbs – kicked off her wedges and stepped onto a blue gym mat to start a judo match. With a chopping motion, she proclaimed, "Hajimi," the Japanese word that traditionally kicks off the bouts. Before her, 14-year-olds Abdurrahman Chaatouf and Aaron Mahoney-Jones bowed and showed her three the classic throws. Afterwards, Mahoney-Jones said of the royal visit: "It inspires me to know someone's behind me and behind us at Greenhouse."
Are you excited for some royal Olympic action? Which event in the Olympics will you be closely watching?
Source: People
Image: Inquirer