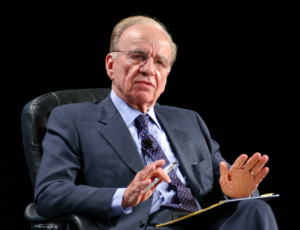 With the recent splash of Tom Cruise and Katie Holmes' divorce over the weekend, Rupert Murdoch, News Corp. chief executive and media mogul, publicized his reactions on the news via Twitter. And indeed, his tweets included remarks about Scientology that could possibly create waves in the media world.
Murdoch tweeted: "Scientology back in news. Very weird cult, but big, big money involved with Tom Cruise either number two or three in [hierarchy]."
Murdoch, who owns Fox News, Wall Street Journal and New York Post, tweeted another "cult" comment right after the first one: "Watch Katie Holmes and Scientology story develop. Something creepy, maybe even evil, about these people."
According to the Los Angeles Times, Cruise is often linked with Viacom's Paramount Pictures, and has done movies for 20th Century Fox — which is owned by News Corporation. He is also "known for being prickly about being challenged about his involvement with Scientology."
Still, Murdoch stands by the lines he tweeted: "Since Scientology tweet hundreds of attacks, expect they will increase and get worse and maybe threatening. Still stick to my story." And when a user asked about Murdoch's take on Mormonism, he replied: "Mormonism a mystery to me, but Mormons certainly not evil."
Scientology was created by L. Ron Hubbard in 1952. It is a body of beliefs and related practices to his self-help system, Dianetics. Scientology's teaching involves the principle that humans are simply immortal beings who have forgotten their true nature. It uses auditing, a method of spiritual rehabilitation where a person aims to consciously relive painful or traumatic experiences in their past in order to liberate themselves of their negative effects. Scientology is a tax-exempt religion in the United States.
What do you know about Scientology? What do you think gave Murdoch the impression that Scientologists are "creepy" and evil"? Do you share the same opinion with him or not?
Image: Innovations In Newspapers