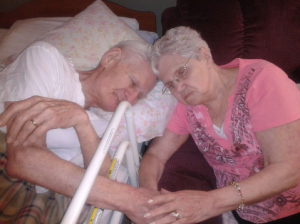 They met in elementary school, began a romance during World War II and married not long afterward. They had a lifelong devotion to each other as husband and wife that lasted nearly 66 years — and one day earlier this month they died, just 11 hours apart.
'They got to go together'
Their children call it their "final act of love." Harold Knapke, 91, and his wife, Ruth, 89, died August 11 at the Versailles Health Care Center nursing home in Russia, Ohio, spokeswoman Teresa Pohlmon said. Their children said they were nine days short of their 66th wedding anniversary.
"It's consoling to us that they went together," said their daughter, Margaret Knapke. "On one hand it's difficult to lose both parents at once when you didn't see it coming … but it's very consoling that they got to go together."
'There is a love that lasts'
According to Margaret, her father's health had been deteriorating more quickly than her mother's for about a year. Margaret said Ruth contracted a rare infection shortly before her death and it was clear she was not going to recover. When Margaret and her siblings told her father the news, she recalled, he took it calmly but they saw a "shift" in him. Just a few days later, Margaret and one of her sisters noticed that their father appeared to be very ill, she said.
"My sister said, 'It's almost like he's trying to catch up to Mom.'"
Three days later, Harold died, at 7:30 a.m.  Ruth Knapke died that night, at 6:30 p.m. The two were laid to rest together in a joint funeral.
"Mom and Dad were ordinary people," Reindl said. "I guess if people can learn from our story it's that there is love that lasts, and that's a good thing."
Do you believe in everlasting love? Tell us if this story has touched your heart!
Source: Allie Malloy | CNN