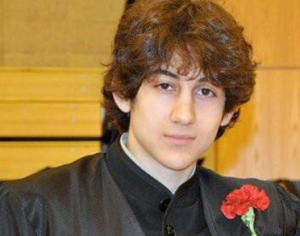 His arm in a cast and his face swollen, a blase-looking Dzhokhar Tsarnaev pleaded not guilty Wednesday in the Boston Marathon bombing in a seven-minute proceeding that marked his first appearance in public since his capture in mid-April.
'30 federal charges'
Leaning into the microphone, he told a federal judge, "Not guilty" in his Russian accent and said it over and over as the charges were read. Tsarnaev, who has been hospitalized since his capture with wounds suffered in a shootout and getaway attempt, faces 30 federal charges, including using a weapon of mass destruction to kill, in connection with the April 15 attack that left three people dead and more than 260 wounded. He could get the death penalty if prosecutors choose to pursue it.
Authorities say Tsarnaev orchestrated the bombing along with his older brother, Tamerlan Tsarnaev, who died following a gun battle with police three days after the attack. Dzhokhar Tsarnaev was arrested on April 19, hiding in a bloodstained boat in a suburban backyard after a manhunt that paralyzed much of the Boston area.
'Pressure cookers'
Prosecutors say Tsarnaev, a Muslim, wrote about his motivations for the bombing on the inside walls and beams of the boat. He scrawled that the U.S. government was "killing our innocent civilians," and also wrote: "We Muslims are one body, you hurt one you hurt us all."
Martin Richard, 8, Krystle Marie Campbell, 29, and Lingzi Lu, 23, were killed by the two bombs, which were fashioned out of pressure cookers, gunpowder, nails and other shrapnel. Numerous victims lost legs.
What do you think will be the outcome of Dzhokhar Tsarnaev? Do you think he'll get the death penalty? Feel free to discuss this case with us via the comment box below!
Source: Denise Lavoie and Jay Lindsay | Associated Press, Yahoo! News
Image: The New Yorker