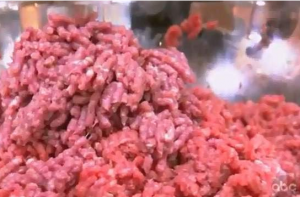 McDonald's and Taco Bell have banned it, but now the United States Department of Agriculture (USDA) is buying 7 million pounds of beef containing ammonium hydroxide-treated ground connective tissue and meat scraps and serving it up to America's school kids.
According to TheDaily.com, the term "pink slime" was coined by microbiologist Gerald Zirnstein, formerly of the USDA Food Safety Inspection Service. He first saw it being mixed into burger meat when he was touring a Beef Products Inc (BPI) facility in 2002 after an outbreak of salmonella.
"Pink slime," which is officially called "Lean Beef Trimmings," is banned for human consumption in the United Kingdom. It is commonly used in dog and chicken food. Celebrity chef and safe food advocate Jamie Oliver featured the substance and called for its ban on the April 12, 2011 episode of Jamie Oliver's Food Revolution, which may have influenced McDonald's to stop using beef patties containing the filler.
Another issue is the ammonium hydroxide, a chemical that is used to kill pathogens such as E. coli. The FDA considers it safe for human consumption but a 2009 expose by the New York Times questioned its safety and efficacy. Some food advocates are asking for meat containing "pink slime" to be labeled. It's used in about 70% of ground beef in the US.
Source: Yahoo News
Image: Mail Online