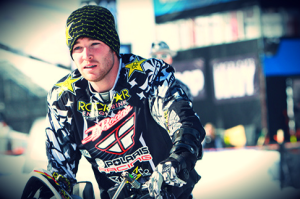 Caleb Moore, a 25-year-old professional snowmobiler, has died from injuries he sustained during a horrific crash during the Aspen X Games last week. He passed away this morning in Colorado, a family spokesperson said.
'Snowmobile flipped over'
Moore's family declined to release further details about the death, but stated on Sunday that he had suffered a "brain complication" stemming from the accident … on top of a severe concussion and bleeding of the heart. Moore was competing at the snowmobile freestyle final last Thursday when his 450-pound snowmobile flipped over and landed on top of him.
'Risks remain'
ESPN released a statement Tuesday, saying, "We've worked closely on safety issues with athletes, course designers and other experts for each of the 18 years of X Games. Still, when the world's best compete at the highest level in any sport, risks remain."
Caleb — once an avid all-terrain vehicle rider — was a 4-time X Games medalist who first began competing in 2010, after just one month of practicing on snowmobiles.
What does Caleb Moore's fatal snowmobile accident tell you about dangerous sports? Would you risk your life for recognition or thrill? Feel free to share your opinions regarding this sad news. Type in your thoughts in the comment box below!
Source: TMZ
Image: Elite Daily