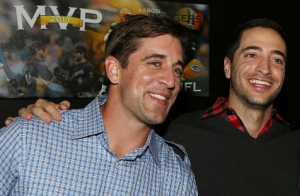 With the news that Milwaukee Brewers outfielder Ryan Braun admitted to using performance-enhancing drugs and will be suspended the remainder of the 2013 season, it looks like Green Bay Packers QB Aaron Rodgers is the one who should be eating crow after his tweets from a year ago.
'Exonerated'
Rodgers tweeted in full confidence that the media was slandering an innocent man and even told one fan he'd put his salary for next season on Braun's innocence.
"MLB and cable sports tried to sully the reputation of an innocent man. Picked the wrong guy to mess with. Truth will set u free #exonerated"

"@toddsutton ya I'd put my salary next year on it. #ponyup #exonerated"
'Game check'
Lindsay Jones of USA Today Sports interviewed the fan whom Rodgers tweeted at, who jokingly said he'd take just a game check from Rodgers, which would cost Rodgers $281,250.
Now, hindsight is always 20/20, and there's obviously no way Rodgers could have known his baseball buddy was guilty, but these were pretty bold claims.
Do you think Aaron Rodgers would indeed pony up the money that he put up for the bet on his friend's innocence? And what will become of Ryan Braun?
Source: Tristan Thornburgh | Bleacher Report
Image: Total Packers