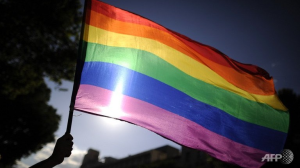 New Zealand's parliament has legalised same-sex marriage, the first country in the Asia-Pacific region to do so. Lawmakers approved the bill, amending the 1955 marriage act, despite opposition from Christian lobby groups. The bill was passed with a wide majority, with 77 votes in favour and 44 against.
'More divided'
Some opinion polls have suggested that about two-thirds of New Zealanders support the reform, although others polls suggest the public are more divided.
Parliamentarians were allowed a conscience vote, and, crucially, the reform had the backing of both the Prime Minister John Key and leader of the opposition David Shearer, the BBC's Phil Mercer in Sydney reports.
'Traditional concept of marriage'
Same-sex civil unions have been legal in New Zealand since 2005. However, Conservative Party leader Colin Craig said there were many people who disagreed with the bill. Bob McCoskrie, founder of the lobby group Family First, said the bill undermined the traditional concept of marriage.
New Zealand becomes the 13th country to legalise same-sex marriage. Other countries include the Netherlands, Belgium, Spain, Canada, South Africa, Argentina and Uruguay. No other country in the Asia-Pacific region allows gay marriage.
Are you in favor of same-sex marriage? Why or why not? Feel free to voice out your opinions and justify your vote via the comment box below!
Source: BBC News
Image: Channel News Asia