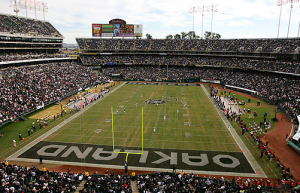 The Oakland Raiders have one of the oldest and most unsightly stadiums in the NFL today. However, according to Matthew Artz of the Oakland Tribune, the Raiders are interested in building a 50,000-seat stadium in Alameda County, which would cost an estimated $800 million. The stadium would reportedly be the smallest in the league if it comes to fruition.
'Ability to pay'
Despite that, there are major concerns regarding the Raiders' ability to pay for it. According to Artz, the Raiders are willing to put up $300 million and also plan to borrow $200 million from the NFL as part of the league's stadium loan program. That leaves $300 million, which would have to come from taxpayers, but it remains to be seen if such a proposal would be accepted.
'Average attendance'
Councilman Larry Reid admitted that Oakland sports could be in dire straits if a deal doesn't get done, especially with the NBA's Golden State Warriors and MLB's Oakland Athletics potentially looking to move out of Oakland to San Francisco and San Jose, respectively.
O.co Coliseum can seat as many as 64,200 fans, but the Raiders were dead last in the league in average attendance last season at just over 54,000 fans per game, according to ESPN. With that in mind, a 50,000-seat stadium would be much easier to fill to capacity, but there are no guarantees that the Raiders will be able to make this work.
Do you think the plan for the new stadium will work for the Oakland Raiders? Why or why not?
Source: Mike Chiari | Bleacher Report
Image: ESPN