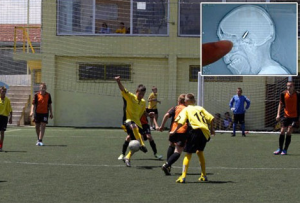 Bosnian goalkeeper had the terrifying realization that the headache he suffered during a game was actually from a bullet lodged in his head.
'Played the entire 90-minute fixture'
Dirty Tackle's Ryan Bailey discovered one of the more remarkable stories we have ever seen over at the Sarajevo newspaper Dnevni Avaz. Those are stunning details of a goalkeeper who found out the nagging headache he had was from a 9mm bullet—the byproduct of an irresponsible person celebrating a local wedding by firing a few shots in the air.
According to the report, Duško Krtalica, the 51-year-old amateur keeper, was in goal for his suburban team when he complained that his head was hurting.  Being far more of a man than I could ever hope to be, he played the entire 90-minute fixture and only allowed one goal.
'Clearly lodged in his skull'
At some point, he began to complain about far more severe symptoms. Bailey writes that Krtalica "complained of a stiff arm and had difficulty speaking. He was driven to a local hospital, where doctors were shocked to see that a 9mm bullet was clearly lodged in his skull." Thankfully, the report had some answers as to how a bullet came to be lodged in an unsuspecting keeper's head:
According to Dnevni Avaz, a 42-year-old local named Seyne Ligata was subsequently arrested and his pistol was seized. A further 12 shells were found near the football field, suggesting it was very lucky that no one else was injured.
In an odd twist, the goalkeeper was both the luckiest and most unfortunate player on the pitch. While he did get hit in the head with a bullet, the report states that he made it through the operation just fine and is in stable condition.
Can you believe it? Share your own unbelievable close call with a serious injury. Broadcast your thoughts using the comment box below!
Source: Gabe Zaldivar, Bleacher Report
Image: USA Today