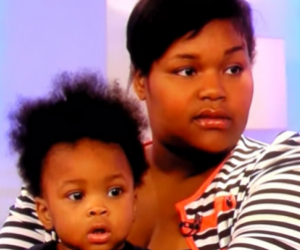 Saskia David, the mother of Samier Bush, the toddler who was videotaped being put into a commercial washing machine, told the Today Show she would press charges against the babysitter who was responsible for him at the time.
The incident occurred on May 11, but was not widely reported until a surveillance video of the child being loaded into the machine went viral on the Internet earlier this week. The machine automatically locked and began to cycle but was disabled by a swift thinking employee of the laundromat. Initially, the people in the video were thought to be Samier's parents, but yesterday, the Camden County Prosecutor's Office identified them as a babysitter and her male friend.
The mother explained that she only learned of the incident on Tuesday night at about midnight when she saw the video on the local news. "I was, like, I know that ain't my child, oh, oh my god…I didn't know until the next morning until the police came knocking on my door." David says Sandra, the babysitter, had told her he had fallen down two stairs. The boy still has a visible mark on his forehead and mom claims he needs more medical tests.
David says she does not like to watch the video because it makes her feel "sick," "angry," and "sad." But she reports that baby Samier is doing well. "He's still talkative. And he's beautiful." The boy's father is currently in prison, but David says he's been informed of the situation he also wants charges to be filed.
Do you agree that both the babysitter and her male friend should be prosecuted? Tell us what you think!
Source: Yahoo News
Image: Opposing Views