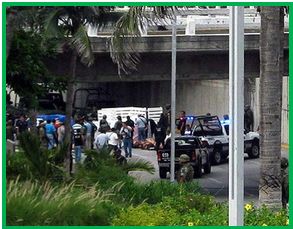 Masked gunmen from the cartel known as New Generation dumped the bodies of 35 murder victims on a busy avenue in a Gulf of Mexico coastal city, causing traffic interruption in the Tuesday rush hour.
Horrified motorists first began tweeting that masked gunmen wearing military uniforms were blocking Manuel Avila Camacho Boulevard and pointing their guns at terrified civilians in the area. Some of the messages read "They don't seem to be soldiers or police" and "Don't go through that area. There is danger."
According to Veracruz state Attorney General Reynaldo Escobar Perez, the bodies were piled inside two trucks under an underpass near a shopping mall in Boca del Rio city. Almost 95 percent of the victims were identified and all had criminal records linked to organized crime like kidnapping, extortion, murder, drug trafficking, and car theft. The victims included 23 women, 12 women, with at least two minors with no criminal records who had been reported missing.
Local media said some of the bodies were tied up and showed signs of torture. Most of them were seminude and had been suffocated. Some were strangled and one had been shot. Some of them were alleged prisoners who escaped from three Veracruz prisons on Monday, but this was not yet confirmed. Fourteen of the 32 inmates who had escaped were already recaptured by the police.
During the past year, the Gulf and Zetas drug cartels have been engaged in a bloody war over control in the Veracruz state. The Zetas is a gang set up by ex-elite soldiers turned hired killers and is suspected to organize prison escapes to recruit gunmen to fight against rival gangs and the Mexican military. A top Interior Ministry official said the killings were probably triggered by a revenge attack between criminal gangs.
Earlier, the Mexican army announced that it had captured a main figure in the cult-like Knights Templar drug cartel that is propagating violence in western Mexico. Mexican media said there was a message lying near the bodies which carried threats to the Zetas drug gang.
Brig. Gen. Edgar Luis Villegas said they captured former police chief and one-time congressional candidate Saul Solis, 49, in the cartel's home state of Michoacan. Solis is one of the principal lieutenants in the Knights Templar, which broke off from pseudo-religious drug gang La Familia, which is known as a major trafficker of methamphetamine.
In northern Mexico, the army announced that they have detained two more suspects in a casino fire that killed 52 people last month in the northern city of Monterrey. Two men captured at a bar on Monday confessed their involvement in the Zetas drug cartel and the recent attack.
In Nuevo Leon, 19 alleged members of the Zetas drug cartel were captured by Mexican marines at a ranch that was being used as a training camp in the town of Colombia. According to the navy, seven minors were among those detained and that the marines had confiscated four rifles, a pistol, and several military uniforms and boots.
In late 2006, President Felipe Calderon launched a campaign against drug cartels in Mexico. Since then, around 42,000 have been claimed by drug violence. Most of that was focused on the northern border with the United States.
Escobar said the police were still reviewing the surveillance video recorded in the area.