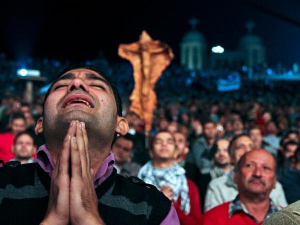 Copts whose church was one of dozens destroyed by Muslim Brotherhood supporters have returned to the charred house of worship, with their pastor vowing the violence suffered by his flock will make them "better Christians."
'Ethnic cleansing'
Across Egypt, at least 60 churches have been targeted, along with Christian schools, homes, businesses and even an orphanage, according to conservative estimates. In the areas of Minya, Beni Suef, Fayoum and Assiut, Christian homes and businesses have received leaflets warning them to leave or face reprisals by Islamists, Christians said.
As violence envelops Egypt, Christians are paying a heavy price with scores of their most sacred buildings and monuments being systematically destroyed by members of the Muslim Brotherhood in what one Coptic leader called an attempt at ethnic cleansing.
'Path toward Islamist rule'
The group, which is clashing with the military throughout the North African nation, has zeroed in on Christians since the Muslim Brotherhood-backed administration of Mohamed Morsi was ousted on July 3. The military removed him from power after he imposed several sweeping constitutional changes that appeared to put the nation of 90 million on a path toward Islamist rule.
Under fire, Christians are solidly backing the military's harsh crackdown on the Muslim Brotherhood.
How will Egypt achieve true peace and order in this situation? Do you think Egyptian Christians should leave for their own safety?
Source: Fox News
Image: Coptic World