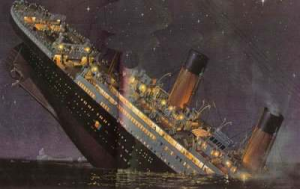 A century after the Titanic disaster, scientists have found an unexpected culprit of the crash: the moon. Anyone who knows history or blockbuster movies knows that the cause of the ocean liner's accident 100 years ago next month was that it hit an iceberg.
"But the lunar connection may explain how an unusually large number of icebergs got into the path of the Titanic," said Donald Olson, a Texas State University physicist whose team of forensic astronomers examined the moon's role.
The team investigated speculation by the late oceanographer Fergus Wood that an unusually close approach by the moon in January 1912 may have produced such high tides that far more icebergs than usual managed to separate from Greenland, and floated, still fully grown, into shipping lanes that had been moved south that spring because of reports of icebergs.
Olson said a "once-in-many-lifetimes" event occurred on January 4, 1912, when the moon and sun lined up in such a way that their gravitational pulls enhanced each other. At the same time, the moon's closest approach to earth that January was the closest in 1,400 years, and the point of closest approach occurred within six minutes of the full moon. On top of that, the Earth's closest approach to the sun in a year had happened just the previous day.
The team's Titanic research may have vindicated Captain Smith – albeit a century too late – by showing that he had a good excuse to react so casually to a report of ice in the ship's path. The research will appear in the April issue of "Sky & Telescope" magazine.
Source: Yahoo News
Image: Connection to People