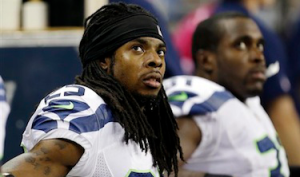 Seattle Seahawks defensive back Richard Sherman believes the NFL should lift its ban on Adderall because it's used by a large group of players, which he estimates at around half the league, reports Mike Beamish of The Vancouver Sun.
'Ill-informed and inaccurate'
Said Sherman:
About half the league takes it (Adderall) and the league has to allow it. The league made a mistake in my case. Obviously, I didn't do anything, but you have to go through a process to prove you didn't do anything. There are still naysayers out there who don't believe me. But I accept it. If everybody loves you, it probably means you're not much of a player.
The NFL has responded to Sherman's statements about the league's ban on Adderall, according to a report from TMZ. Per the NFL spokesman's statements:
"The comments are ill-informed and inaccurate.  Adderall is easily detected under current testing and will result in a suspension absent an approved therapeutic use exemption."
'Widespread use'
Adderall is a prescription stimulant, commonly used for the treatment of attention deficit disorder and hyperactivity, Beamish states. Use of it by NFL players would currently result in a suspension, but Sherman thinks the widespread use should change the league's outlook.
The talented cornerback was nearly suspended for four games last season after traces of the stimulant were found in his urine, as reported by Vinnie Iyer of Sporting News. Sherman appealed the punishment and won his case, allowing him to keep playing.
Do you believe half of the NFL players actually use Adderall? Considering Richard Sherman's statement, do you think the NFL should lift the ban on Adderall?
Source: Tim Daniels, Bleacher Report
Image: NESN