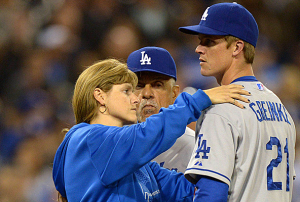 Los Angeles Dodgers right-hander Zack Greinke suffered a fractured left collarbone Thursday night after fending off Carlos Quentin as the slugger angrily charged the mound, according to Dodgers.com.
'Benches-clearing brawl'
According to the Dodgers' Twitter, Greinke will make his return to the mound vs. the Nationals Wednesday night.
The injury to Greinke came after a benches-clearing brawl against the San Diego Padres. Greinke beaned Padres outfielder Quentin in the shoulder with a pitch in the top of the sixth inning, and Quentin charged the mound.
'Hurt the club'
This is a huge blow to the Dodgers right out of the gate. Los Angeles inked Greinke to asix-year, $147 million deal in December, hoping he could be a formidable No. 2 starter behind left-hander Clayton Kershaw in the rotation. Greinke, who was named an All-Star in 2009, posted a 3.48 ERA. 1.20 WHIP and 200 strikeouts in 212.1 innings last season with the Milwaukee Brewers and Los Angeles Angels. That included a combined 15-5 record with both teams.
The Dodgers have gone 6-3 to start the 2013 campaign, but losing Greinke for an extended period of time figures to hurt the club, especially considering right-hander Josh Beckett has struggled in the rotation since coming over to Los Angeles in ablockbuster trade last August. One thing's for sure: The rest of the rotation will have to step up with Greinke out.
Do you think the rest of the Dodgers can indeed step up without Zack Greinke? Which side are you rooting for?
Source: Ryan Rudnansky, Bleacher Report
Image: CBS Sports