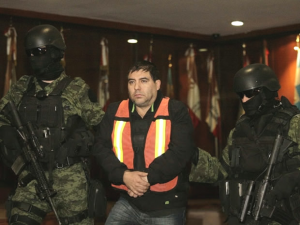 The head of security for one of the World's Most Wanted men, Joaquin "El Chapo" Guzman, head of the Sinaloa drug cartel, has been captured, The Mexican army have announced. Felipe Cabrera Sarabia also known as "El Inge" (the engineer), was captured in the Sinaloa state capital of Culiacán and will be presented to the media on Monday morning, the army said.
Guzmán, Mexico's top drug lord, is one of the world's richest men, and has eluded authorities by moving around and hiding since his 2001 escape from prison in a laundry truck.
The army said the man they had arrested also ran cartel activities in Durango and southern Chihuahua state, and was responsible for carrying out secret burials of cartel victims, kidnapping, extortion and arson. They did not say if the arrest moved the military closer to capturing Guzmán, an arrest that would be seen as a major victory for the government of President Felipe Calderón.
Guzmán is worth more than $1 billion, according to Forbes magazine, which has listed him among the "World's Most Powerful People." He has a $7 million bounty on his head, and thousands of law enforcement agents from the US and other countries working on capturing him.
His cartel controls cocaine trafficking on the Mexican border with California and has moved eastward to the corridor between the Mexican state of Sonora, which borders Arizona.
Source: The Telegraph
Image: National Post