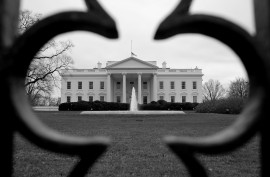 The Obama administration announced Tuesday that it will cancel all White House tours starting this weekend, due to sequester cuts. The move prompted swift condemnation from Republican lawmakers, who described the decision as the latest attempt to make the sequester seem worse than it is.
'Staffing reductions'
"It's politically motivated," Rep. Kevin Cramer, R-N.D., told Fox News. "It seems childish — take my ball and go home."
The announcement is the latest from the administration about the impact of the cuts that went into effect last Friday. Congressional staffers received a terse email saying White House tours would be canceled effective this Saturday.  The email cited "staffing reductions" from the sequester.
White House tours, which are self-guided, are typically scheduled through members of Congress. Visitors can request a tour through their representative up to six months in advance. Anyone arriving after Saturday, though, is in for a disappointment. A recorded message on the White House visitor's hotline Tuesday confirmed that the tours will soon be nixed until "further notice."
'Nonessential items'
A senior administration official later explained to Fox News that the cancellation arose from Secret Service staffing decisions. According to the Secret Service, officers normally assigned to the public tours are being reassigned to other posts. The Service says the move will reduce costs and "ultimately reduce the number of potential furloughs necessary by our agency."
Cramer said if he were to give the administration the benefit of the doubt, he could see White House tours being on the list of nonessential items. He said he doesn't think they'll close the White House to the public forever.
The administration has announced a raft of expected cutbacks in response to the sequester. The Defense Department, and other federal agencies, are planning to furlough thousands of workers to save money. Congress also announced that it would cut back on foreign travel.
Do you believe that the cancellation of White House tours is indeed politically motivated? What is your position regarding the sequester cuts?
Source: Fox News
Image: News Whip