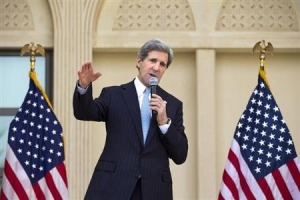 Secretary of State John Kerry said Monday that the Obama administration would sign a controversial U.N. treaty on arms regulation, despite bipartisan resistance in Congress from members concerned it could lead to new gun control measures in the U.S.
'Regulate arms brokers'
Kerry, releasing a written statement as the U.N. treaty opened for signature Monday, said the U.S. "welcomes" the next phase for the treaty, which the U.N. General Assembly approved on April 2.
The treaty would require countries that ratify it to establish national regulations to control the transfer of conventional arms and components and to regulate arms brokers, but it will not explicitly control the domestic use of weapons in any country.
'Global importance'
Still, gun-rights supporters on Capitol Hill warn the treaty could be used as the basis for additional gun regulations inside the U.S. and have threatened not to ratify.  Last week, 130 members of Congress signed a letter to Obama and Kerry urging them to reject the measure for this and other reasons.
The United Nations has organized a high-level signing ceremony at U.N. headquarters on Monday — a sign of the treaty's global importance — and several dozen countries are expected to sign, the first step to ratification.
Many violence-wracked countries, including Congo and South Sudan, are also expected to sign. The coalition said their signature — and ratification — will make it more difficult for illicit arms to cross borders. The treaty covers battle tanks, armored combat vehicles, large-caliber artillery systems, combat aircraft, attack helicopters, warships, missiles and missile launchers, and small arms and light weapons.
Are you in favor of the U.N. arms regulation treaty? Why or why not?
Source: Fox News
Image: Yahoo News