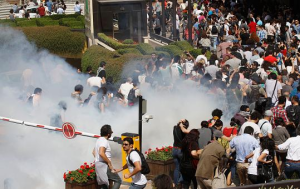 Protesters seething over their treatment by security forces hurled rocks at riot police in Ankara's Kizilay Square on Monday, the latest in a string of violent clashes that have punctuated massive anti-government demonstrations spreading across Turkey — leaving thousands injured and at least one dead in the past two days alone.
'Bloodied protesters'
The protests united demonstrators from across the political spectrum against a common foe: security forces who unleashed tear gas and water cannons on them in response to what had been largely peaceful protests against the government of Prime Minister Recep Tayyip Erdogan.
International groups including Amnesty International have criticized the police response as excessive. In Ankara Sunday night, a CNN crew witnessed authorities roughing up at least one protester. One police officer kicked a CNN videographer, CNN's Nick Paton Walsh reported, and a CNN crew in Istanbul Sunday also witnessed bloodied protesters.
'Paternalistic and authoritarian'
The protests began after plans were made to raze Gezi Park, the last green space in central Istanbul, and replace it with a replica of 19th-century Ottoman barracks. The development would contain a shopping mall. What began as a sit-in by a handful of angry residents quickly grew into a larger protest. Riot police moved in, using tear gas and pepper spray. Protesters responded by hurling bottles, setting up barricades, blocking bulldozers and burning trash in the middle of the street.
Then, outraged by the behavior of security forces, demonstrators began attacking police. The protests have since morphed into larger complaints against Erdogan, whom protesters call paternalistic and authoritarian.
Did the police use excessive force against the people during this supposedly peaceful protest? Who is to blame for this "unprecedented violence"?
Source: Ivan Watson and Gul Tuysuz, CNN
Image: Euronews