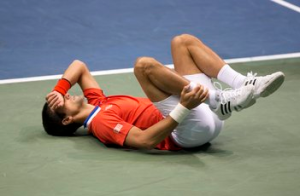 World No. 1 Novak Djokovic has suffered an ankle injury playing for Serbia in the country's 2013 Davis Cup quarterfinal against the United States. According to a Reuters report, Djokovic reportedly twisted his ankle in just the third game of the match against Sam Querrey, which he went on to win 7-5, 6-7 (4), 6-1, 6-0 to give Serbia an insurmountable 3-1 lead in their quarterfinal.
'Wasn't so optimistic'
The win sparked wild scenes on the court as Serbian players and officials rushed to celebrate the victory and their Davis Cup semifinal berth. After the game, however, Djokovic wasn't so optimistic:
Injuries are part of the sport and you try to avoid them as an athlete as much as you can. The nature of the injury is still to be determined.



'Definitely not a good first sign'
One hour, one hour and a half after the end of the match, all I can say is it doesn't look good. It's swollen, and when it's swollen it's definitely not a good first sign. I'm going to do everything I can in my power to recover till that tournament [Monte-Carlo Rolex Masters on April 140. How realistic that is, I don't know what to tell you.
This comes as a bitter blow for the reigning world champion, who had once again started the 2013 season in emphatic fashion—successfully defending his title at the 2013 Australian Open before following that up with a win at the Dubai Open.
Do you think Novak Djokovic will be able to recover from his ankle injury just in time for the Monte-Carlo Rolex Masters on April 14? Or should he forgo the Masters and wait for the French Open instead?
Source: Dan Talintyre, Bleacher Report
Image: SB Nation