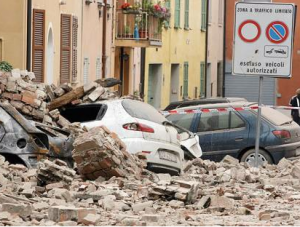 An earthquake in northern Italy has killed at least seven people and caused serious damage to buildings in several towns, local officials say.
The magnitude-6.0 quake struck in the middle of the night, about 35km (22 miles) north of the city of Bologna. The tremor caused "significant damage to the cultural heritage" of Emilia Romagna region, the government said. Later on Sunday, a magnitude-5.1 aftershock hit the region, causing more buildings to collapse. The aftershock destroyed a clock tower and made a firefighter fall from a wall in the town of Finale Emilia, near the epicentre of the first tremor.
Sunday's quake was the worst to hit the country since the L'Aquila tremor killed nearly 300 people in central Italy in 2009. It was felt across a large swathe of northern Italy, including the cities of Bologna, Ferrara, Verona and Mantua and as far away as Milan and Venice.
About 50 people were injured – but no-one seriously. More than 3,000 people were later evacuated from their homes amid fears of fresh tremors. TV footage later showed people inspecting damaged houses, offices and historic buildings. Emergency officials ordered the evacuation of patients from hospitals as a precautionary measure.
Northern Italy is frequently rocked by minor earthquakes, but the country is well-prepared to deal with them, the BBC's Alan Johnston in Rome reports.
Have you experienced being in a place where a big earthquake is taking place? Share your stories with us!
Source: BBC News
Image: Gulf News