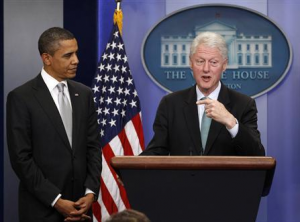 When former President Bill Clinton took the stage at the Democratic National Convention on Wednesday, he portrayed President Barack Obama as a pragmatic compromiser who has been stymied at every turn by Republicans. That was among the lines by the former president and others Wednesday that either cherry-picked facts or mischaracterized the opposition. A look at some of them:
CLINTON: "When times are tough, constant conflict may be good politics but in the real world, cooperation works better. …Unfortunately, the faction that now dominates the Republican Party doesn't see it that way. They think government is the enemy and compromise is weakness. One of the main reasons America should re-elect President Obama is that he is still committed to cooperation."
THE FACTS: From Clinton's speech, voters would have no idea that the inflexibility of both parties is to blame for much of the gridlock. Right from the beginning Obama brought in as his first chief of staff Rahm Emmanuel, a man known for his getting his way, not for getting along.
CLINTON: Clinton suggested that Obama's health care law is keeping health care costs in check.
THE FACTS: That's wishful thinking at best. The nation's total health care tab has been growing at historically low rates, but most experts attribute that to continued uncertainty over the economy, not to Obama's health care law.
CLINTON: "Their campaign pollster said, 'We're not going to let our campaign be dictated by fact checkers.' Now that is true. I couldn't have said it better myself — I just hope you remember that every time you see the ad."
THE FACTS: Clinton famously finger-wagged a denial on national television about his sexual relationship with intern Monica Lewinsky and was subsequently impeached in the House on a perjury charge. Later, after he was forced to testify to a grand jury, Clinton said his statements were "legally accurate" but also allowed that he "misled people, including even my wife."
What is your opinion regarding former President Bill Clinton's speech during the DNC? Are you going to vote for Obama?
Image: Reuters