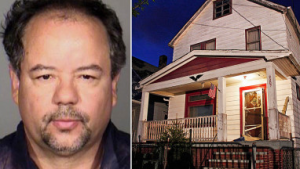 Ariel Castro appeared silently in court Thursday, his head down, as he was arraigned on four counts of kidnapping and three counts of rape, accused of holding the women captive in his Cleveland home. Cleveland Municipal Court Judge Lauren Moore ordered Castro held on $8 million bond — $2 million for each of the three women and the child born to Amanda Berry before they were freed Monday evening.
'Aggravated murder'
Hours later, the top prosecutor in Cuyahoga County, Ohio, announced he'd press for more charges — "for each and every act of sexual violence … each day of kidnapping, every felonious assault (and) all his attempted murders."
Furthermore, Prosecutor Timothy McGinty said he'd try to persuade a grand jury to indict the 52-year-old Castro for "aggravated murder" for the termination of his captives' pregnancies. He cited a state law that a person can be charged with murder — a conviction that could lead to the death penalty in Ohio — for killing unborn children.
According to an initial incident report obtained by CNN, Michelle Knight said she became pregnant at least five times while in Castro's 1,400-square-foot home. When that happened, she told investigators, Castro "starved her for at least two weeks, then he repeatedly punched her in the stomach until she miscarried."
'Torture chamber'
It is not known how many times, if any, the other two women got pregnant only to miscarry. One of them, Amanda Berry, gave birth to a daughter while in captivity.
"The child kidnapper operated a torture chamber and private prison in the heart of the city," McGinty told reporters. "The horrific brutality and torture that the victims endured for a decade is beyond comprehension."
Castro's own mother is among those trying to make sense of the horror.
"I have a sick son who has done something serious," she told Univision and Telemundo. "I'm suffering very much. I ask for forgiveness from those mothers; may those girls forgive me."
Do you think Ariel Castro will receive death penalty for forcing his kidnap victims to miscarry? If you were the kidnap victims' family, would you be able to forgive Castro?
Source: Greg Botelho and Pamela Brown, CNN
Image: Sport Spyder