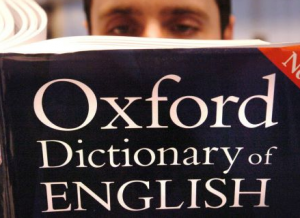 "Omnishambles" has been named word of the year by the Oxford English Dictionary. The word – meaning a situation which is shambolic from every possible angle – was coined in 2009 by the writers of BBC political satire The Thick of It.
'A word everyone liked'
Other words included "Eurogeddon" – the threatened financial collapse in the eurozone – and "mummy porn" – a genre inspired by the 50 Shades books. The London Olympics threw up several contenders including the verb "to medal". New words from the world of technology included "second screening" – watching TV while simultaneously using a computer, phone or tablet – and social media popularised the acronym "Yolo", you only live once.
Fiona McPherson, one of the lexicographers on the judging panel, said: "It was a word everyone liked, which seemed to sum up so many of the events over the last 366 days in a beautiful way."
Labour leader Ed Miliband, whose phrase "squeezed middle" – referring to those hit hardest by falling living standards – was word of the year in 2011, made the first recorded use of omnishambles in the House of Commons in April.
"Over the last month we have seen the charity tax shambles, the churches tax shambles, the caravan tax shambles and the pasty tax shambles," said the Labour leader at Prime Minister's Questions. "We are all keen to hear the prime minister's view as to why, four weeks on from the Budget, even people within Downing Street are calling it an omnishambles Budget."
'Romneyshambles'
The word swiftly took off as a favourite term of abuse for opposition politicians attacking the government. But it also mutated on social media into humorous new variants such as "Romneyshambles" – used to describe gaffes by US presidential candidate Mitt Romney during his visit to the UK – and omnivoreshambles, referring to the row about a planned badger cull in England and Wales. But there is no guarantee omnishambles, or any of the other shortlisted words, will make it on to the pages of the Oxford English Dictionary.
Do you approve of "omnishambles" as the word of the year? Should it be included in the dictionary?
Source: BBC News
Image: Irish Examiner