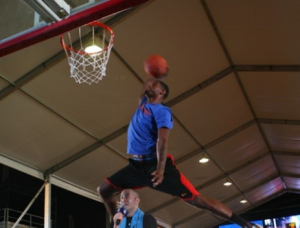 It never fails — head out for a long weekend to be a groomsman in your college roommate's wedding, and you're sure to miss the unveiling of a 360-degree, through-the-legs windmill performed by a 6-foot-10-inch shooting guard in Shanghai. A tale as old as time, a song as old as rhyme.
Shanghai user KZ15220 shared a video of George's dunk at the Festival of Sport event in China (Note: It's the second dunk in the video). If the dunk looks familiar to you, it might be because George's Shanghai slam resembles the 360-degree windmill that he completed at the 2012 Sprite Slam Dunk Contest during NBA All-Star Weekend, though he's since added the extra wrinkle (and difficulty) of going through his legs in mid-spin.
If the dunk doesn't look familiar to you, it might be because George did that February dunk in the dark while wearing glow-in-the-dark stripes on his jersey, marking arguably the worst decision of a dunk contest that saw Chase Budinger both pretend to be Cedric Ceballos and jump over Diddy, which is saying something.
But add in the fact that, as Lebron James said, George just got up out of his chair and did this without stretching, warming up, practicing or anything, and it's really a remarkable display of athleticism and coordination that's likely to leave fans eager to see George make another trip to the All-Star Weekend dunk contest.
Were you impressed with Paul George's 360-degree, through-the-legs windmill dunk? What other basketball stunts of other players do you fancy? Give us a holler in the comment box below!
Image: SB Detroit