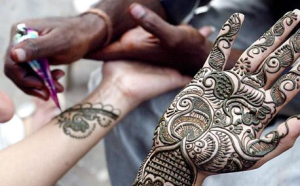 If you want to show off some cool body art over spring break, but you're not willing to have it permanently etched onto your arm, realistic-looking temporary tattoos seem like a healthy compromise. But the U.S. Food and Drug Administration on Monday warned people to watch out. Apparently, certain temporary tattoos can still cause permanent damage.
'Skin reactions'
The FDA's warning has to do with temporary tattoos made with "black henna" ink containing para-phenylenediamine (PPD), a coal-tar product that is approved for use in hair dye but is known to cause skin reactions in some people. Traditional, reddish-brown henna and stick-on temporary tattoos (the ones that look like stickers and are applied with water) are not part of the warning.
Unlike permanent tattoos, in which ink is injected under the skin, "black henna" tattoos are drawn or stenciled onto the skin's surface. They're popular with vendors at beaches, boardwalks, resorts, and fairs because they're easy to apply quickly and make for long-lasting, dark, realistic-looking temporary body art.
'Permanent scarring'
But PPD can also have horrible side effects. The FDA has received reports of "redness, blisters, raised red weeping lesions, loss of pigmentation, increased sensitivity to sunlight, and even permanent scarring" in adults and children who have had "black henna" applied to their skin. Reactions can occur right away, a few days after exposure, or even as long as two or three weeks after the temporary tattoo was applied.
There are several ways to tell whether a temporary tattoo artist is using PPD instead of actual henna. According to Catherine Cartwright-Jones, who runs The Henna Page, "If the stuff they're using is jet black and stains your skin quickly, it's probably PPD-based black hair dye."
Have you had any complications with a temporary tattoo? Would you prefer henna over permanent tats?
Source: Lylah M. Alphonse, Yahoo Shine
Image: The Telegraph