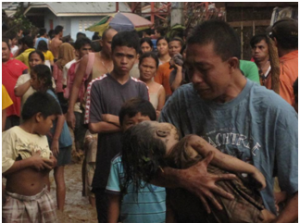 Residents of two southern Philippine cities battered by a storm that left over 1,000 people dead and displaced hundreds of thousands started the hard work of reclaiming their lives as authorities buried dozens of bodies in concrete vaults on Wednesday.
The head of the national disaster agency, Benito Ramos, said 1,002 people were killed and dozens more remained unaccounted for on Mindanao island after landslides, flash floods, and falling logs triggered by typhoon Washi, one of the deadliest typhoons to hit the country since 2008, swept aside homes and roads as people slept in the early hours of Saturday. Most of Washi's casualties were in the cities of Cagayan de Oro and Iligan, with more than 275,000 people homeless, many now sheltering in dozens of evacuation areas.
Washi brought more than 180mm (7 inches) of rainfall over a 24-hour period over northern Mindanao, more than the average of 113 mm (4.5 inches) for an entire December month in the area, Rosalina de Guzman of the weather bureau's climate data office told Reuters. It was the worst typhoon in northern Mindanao in more than 50 years, or since November 1958 when 227 mm (9 inches) of rain fell, de Guzman said.
Some of the displaced spent the night on sidewalks due to overcrowding in schools, churches, gymnasiums and army bases, raising public health concerns due to poor sanitation and lack of potable water.
City officials in Iligan continued to bury drowning victims, many of them in a decomposing state, in newly-built concrete crypts at a public cemetery. Officials in nearby Cagayan de Oro delayed mass burial to allow police to tag for identification more than 600 bodies recovered.
Source: Reuters
Image: eofw.net