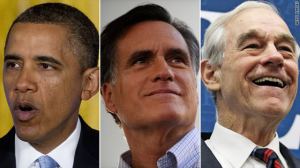 Mitt Romney is all tied up with President Barack Obama in a likely general election matchup, with the president showing signs of weakness on the economy and Romney seen as out of touch with ordinary Americans, according to a new national survey.
And a CNN/ORC International Poll released Monday also indicates that Rep. Ron Paul of Texas is also even with Obama in another possible showdown this November. The survey also suggests the Republican advantage on voter enthusiasm is eroding, which could be crucial in a close contest.
According to the survey, if the November election were held today and Romney were the Republican presidential nominee, 48% say they'd vote for the former Massachusetts governor, with 47% supporting the president. Romney's one point margin is well within the poll's sampling error.
The poll also indicates Paul statistically tied with Obama, with the president at 48% and the longtime congressman at 46%. But according to the poll, the president is doing better against two other Republican presidential candidates. Both men are seen as strong leaders, and both are viewed as having the image and personal qualities that a president should have. Forty-eight percent of Americans say that Obama agrees with them on the issues they care about – not great, but better than the 43% who feel that way about Romney.
The poll was conducted for CNN by ORC International from January 11-12, with 1,021 adults from America, including 928 registered voters, conducted by telephone on January 11-12, 2012. The survey's overall sampling error is plus or minus 3 percentage points.
Source & Image: CNN