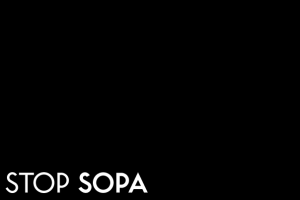 You probably woke up this day to realize the Internet is totally screwy. Is it the online apocalypse? Not so much. Google, Wikipedia, Boing Boing and others have gone dark as night, along with thousands of others, who are protesting two anti-piracy bills that are up for debate in the U.S. Congress.
It's a debate that's pitted the Web against Washington. And if the goal of these protests was to get people talking, that sure seems to have worked, with every media organization on the planet talking about piracy today. Many of these sites are using creative techniques to bring attention to the two bills – one called SOPA, the other PIPA – and making very clear their viewpoint on it.
Media companies are upset that their copyrighted content gets stolen and given away for free by some websites. Two bills aim to crack down on this piracy by restricting access to U.S. websites that potentially could link to this pirated content. Tech companies in Silicon Valley say the bills have unintended consequences that could tamper with the way the Internet functions.
They're arguing that so much of the content we share comes from other places and if this new law were to pass, much of it wouldn't be able to be published or would be censored or taken offline if it were. Links couldn't be shared to other content unless otherwise approved, the same goes for images and any other content. That's why companies like Google and Wikipedia are protesting and asking people to join them.
Source: CNN
Image: Press Run