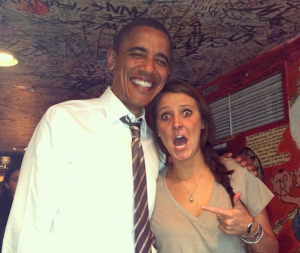 When University of Colorado student Madalyn Starkey posed for a picture with President Barack Obama, she had no idea the hilarious image would go viral.
While traveling through Colorado on Tuesday, Obama stopped in at a local pub known as the Sink. In the photograph, Obama is grinning with his arm around Starkey while the self-described "Pro Student" points her finger at the president in seeming disbelief.
Starkey has been having fun with all the attention on her Twitter feed, writing, "Woooo, never knew a tweet could blow up like that. Neat!" And then joking with another Twitter user, "bet you wish you had taken me to prom now, huh?"
The picture has taken off on social media sites like Instagram and Twitter. And it wasn't the only Obama photo to catch fire across the Web this week. In another photo from Tuesday, Obama appears to be high-fiving a small child after arriving at Buckley Air Force Base in Colorado. After all the attention, it would seem the president is giving the Ridiculously Photogenic Guy a run for his money.
Comments about President Obama trying too hard are emerging. Do you think his campaign strategy is working or is it too much? Share your opinions with us!
Source: Yahoo News
Image: Instagram