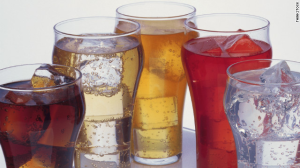 A New York judge is forcing the Bloomberg administration to take a big gulp — striking down its groundbreaking and controversial limit on the size of sugary drinks in New York City shortly before it was set to take effect.
'Arbitrary and capricious'
Manhattan state Supreme Court Justice Milton Tingling wrote in his opinion that the rules are "arbitrary and capricious," applying to only certain beverages and only certain stores. Mayor Michael Bloomberg said the city plans to appeal, calling the ruling "clearly an error."
"If we are serious about fighting obesity then we have to be honest about it and courageous about tackling it," Bloomberg said. "We believe it is reasonable and responsible to draw a line."

But Tingling said the city's Board of Health went beyond its authority, and effectively would be "limited by its own imagination" if left unchecked. That, he wrote, "has the potential to be more troubling than sweetened beverages."
'Unpopular ban'
In the wake of the ruling, the American Beverage Association said the decision provided a "sigh of relief to New Yorkers and thousands of small businesses in New York City that would have been harmed by this arbitrary and unpopular ban."
The city Board of Health approved the measure in September. Championed by Bloomberg, it follows on other efforts his administration has made to improve New Yorkers' eating habits, from compelling chain restaurants to post calorie counts on their menus to barring artificial trans fats in restaurant food to prodding food manufacturers to use less salt.
Do you think sales ban on super-sized sugary drinks can have a noticeable impact on the city's obesity problem? Should the ban go on or should they put a cap on it?
Source: Fox News
Image: CNN