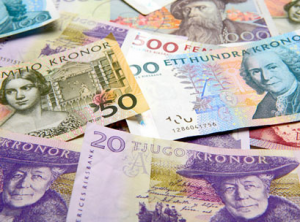 Sweden was the first European country to introduce bank notes in 1661. Now it's come farther than most on the path toward getting rid of them.
The contours of such a society are starting to take shape in this high-tech nation, frustrating those who prefer coins and bills over digital money. In most Swedish cities, public buses don't accept cash; tickets are prepaid or purchased with a cell phone text message. A small but growing number of businesses only take cards, and some bank offices — which make money on electronic transactions — have stopped handling cash altogether.
Bills and coins represent only 3 percent of Sweden's economy, compared to an average of 9 percent in the eurozone and 7 percent in the U.S., according to the Bank for International Settlements, an umbrella organization for the world's central banks.
The Swedish Bankers' Association says the shrinkage of the cash economy is already making an impact in crime statistics. The number of bank robberies in Sweden plunged from 110 in 2008 to 16 in 2011 — the lowest level since it started keeping records 30 years ago. It says robberies of security transports are also down. The flip side is the risk of cybercrimes. According to the Swedish National Council for Crime Prevention the number of computerized fraud cases, including skimming, surged to nearly 20,000 in 2011 from 3,304 in 2000.
Most experts don't expect cash to disappear anytime soon, but that its proportion of the economy will continue to decline as such payment options become available. Before retiring as deputy governor of Sweden's central bank, Lars Nyberg said last year that cash will survive "like the crocodile, even though it may be forced to see its habitat gradually cut back."
Source: Yahoo News
Image: Inside Retailing