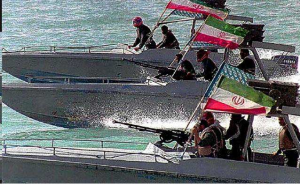 Iran has built up its naval forces in the Gulf and prepared boats that could be used in suicide attacks, but the U.S. Navy can prevent it from blocking the Strait of Hormuz, the commander of U.S. naval forces in the region said on Sunday.
Iran has made a series of threats in recent weeks to disrupt shipping in the Gulf or strike U.S. forces in retaliation if its oil trade is shut down by sanctions, or if its disputed nuclear program comes under attack.
"They have increased the number of submarines … they increased the number of fast attack craft," Vice Admiral Mark Fox told reporters. "Some of the small boats have been outfitted with a large warhead that could be used as a suicide explosive device. The Iranians have a large mine inventory."
Iran now has 10 small submarines, he said. Military experts say the U.S. Navy's Fifth Fleet patrolling the Gulf – which always has at least one giant supercarrier accompanied by scores of jets and a fleet of frigates and destroyers – is overwhelmingly more powerful than Iran's navy.
The European Union slapped an embargo on Iranian oil last month, which is due to kick in completely by July 1. The United States and EU have both imposed new sanctions on Iran's central bank which make it difficult for countries to pay Tehran for oil and for Iran to pay for the goods it imports.
Source: Yahoo News
Image: Al Arabiya News