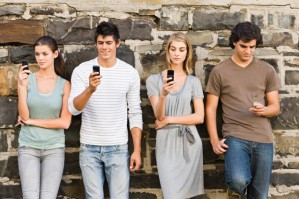 Look around you — at the people in the long fastfood queues, at the bus stop, or even inside your own home. Most probably, you will see a lot of people fiddling with a mobile device — letting time pass by scrolling down every Facebook status, editing pictures on Instagram, replying to text messages or emails, or just playing a video game. Have smartphones become the ultimate cure for boredom?
'Killing time'
Because of the ever-changing technology, people nowadays have developed a different approach to killing time. When we once relied on old magazines near the doorway or small talks with strangers, we have now evolved into a society that relies on our mobile devices to kill even a short amount of time. Almost half of mobile phone users could probably attest that they use their phones for entertainment most of the time.
'Comparable to smoking'
According to researchers, humans have a basic need to cure boredom by any way possible. So fiddling with our smartphones, tablets, and e-readers to kill boredom actually address this need. Christopher Lynn, an anthropology professor at the University of Alabama, says tapping away at smartphones is comparable to smoking. These activities can pivot us from a monotonous moment to "unscheduled play." But is this a positive or a negative thing?
Researchers at England's Social Issues Research Centre say this is not a good thing. They say that this activity make us miss out on other creative ways to deal with boredom. Yes, tapping away on our touchpads or smartphones can leave us very little time for personal reflection.
How about you — do you think constantly using smartphones to kill boredom is a good thing? When was the last time you consciously put down your mobile phone and just allowed yourself to zone out?
Image: CY Talk