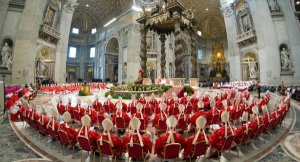 Black smoke billowed from the chimney of the Sistine Chapel Tuesday night, indicating that cardinals gathered at the Vatican to elect a new pope had not chosen one in the first ballot of their conclave.
'Black smoke, no pope'
The start of the secret election got underway earlier in the day, as the heavy wooden doors to the chapel swung closed on the 115 Roman Catholic cardinals charged with selecting the next pontiff. The next round of voting will begin Wednesday morning. Results will be revealed by puffs of smoke from the chimney following each ballot. Black smoke, no pope. White smoke, success.
Earlier, the cardinals celebrated a morning Mass at St. Peter's Basilica, where they prayed for guidance in making a choice that could be crucial to the direction of a church rocked by scandal in recent years.
'Clear frontrunner'
Meanwhile, the Italian news media are full of speculation about which cardinal may win enough support from his counterparts to be elected, and what regional alliances are being formed. According to CNN Vatican analyst John Allen, also a correspondent for the National Catholic Reporter, the race was wide open as the cardinals entered the conclave. Unlike in 2005, when Benedict XVI was believed to be the favorite going into the election, no one has emerged as a clear frontrunner this time around, Allen said.
Some names have cropped up in media reports as possible contenders, however. They include Italy's Cardinal Angelo Scola; Brazil's Odilo Scherer; Marc Ouellet of Quebec, Canada; U.S. cardinals Sean O'Malley of Boston and Timothy Dolan of New York; and Ghana's Peter Turkson.
Who do you think will be the next pope? Who do you WANT to be the next pope?
Source: Laura Smith-Spark, Richard Allen Greene and Dan Rivers, CNN
Image: Breaking News