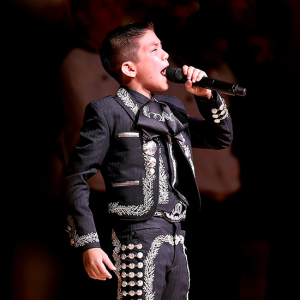 An 11-year-old boy's rendition of the national anthem at Game 3 of the NBA finals brought the usual appreciative applause Tuesday, but outside AT&T Center in San Antonio, his performance brought a darker reaction from some posters on social media — and eventually an online backlash against their racist comments.
'Harsh reaction'
Sebastien has been singing since he was 5 but gained fame in 2012 after being on NBC's "America's Got Talent" for singing his mariachi ballads with hopes of winning to help his younger brother get surgery for his hearing problem.
A collection of the negative tweets was posted on Public Shaming, a Tumblr blog dedicated to outing and shaming racists' social media posts. Other media outlets used that post as the foundation for the story, and the story took off from there. After the harsh reaction spread across the Internet, tweets supporting and defending Sebastien and vociferously denouncing his critics started to take over.
'Persistent problem'
San Antonio is a multicultural city with more than 55% of the population being Hispanic and 90% of those people identifying themselves as Mexican according to the Pew Hispanic Center. For some Mexican-Americans, the incident was just the latest sign of a persistent problem they face: being treated as outsiders in their own country.
It will take a lot more than some racist tweets to bring Sebastien down. The "boy with the golden voice" tweeted earlier today:
"Please do not pay attention to the negative people. I am an American living the American Dream. This is part of the American life."
What is your reaction regarding the racist criticisms agains Sebastien De La Cruz? Feel free to dish out your thoughts and opinions via the comment box below!
Source: Cindy Y. Rodriguez, CNN
Image: Fox Sports