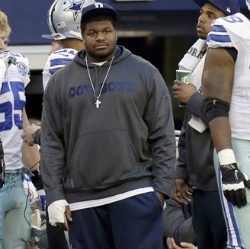 Josh Brent spent Sunday's game on the Cowboys sideline, a jarring sight a little more than a week after Brent was charged with intoxication manslaughter following a car accident that killed teammate Jerry Brown. But Brent's presence was requested by his teammates.
'Criticized'
Brent, a defensive tackle who is on the reserve/non-football injury list for the rest of the season, wore a Cowboys sweatshirt and hat on the sideline through the team's win against Pittsburgh. Brent had Brown's No. 57 jersey draped over his shoulder during the national anthem according to some reports, including one from the Dallas Morning News.  Brent's presence on the sideline was criticized during CBS's halftime show of the Steelers-Cowboys game.
But the Cowboys players apparently wanted Brent, who was released last Sunday on a $500,000 bond, on the sideline. That follows the words and actions of Brown's mother, who invited Brent to Brown's funeral and has expressed that she forgives Brent.
'Understanding the situation'
"What we wanted to do as an organization was support Jerry Brown's mom's wishes," head coach Jason Garrett said, according to DallasCowboys.com. "The players encouraged Josh to be there, a number of phone calls, 'You're coming to the game.' That's just our guys understanding the situation, understanding Stacey Jackson's wishes for Josh. She considers Josh a son and she loves him very much. We love him very much and we're going to try and support him every way that we can."
Do you think Josh Brent shouldn't have shown up at the Steelers-Cowboys game? OR was it a move towards healing? Tell us what you think of the whole situation! Share your thoughts in the comment box below!
Source: Frank Schwab, Yahoo Sports
Image: SI