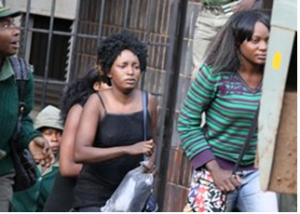 Three women in Zimbabwe who have been accused of raping at least four men were charged with 17 counts of aggravated indecent assault. Police officials in Zimbabwe believe the alleged perpetrators are part of a nationwide syndicate that may be using the sperm for a traditional ritual claiming to make people lucky and wealthy.
They were apprehended in a town about 170 miles outside of the capital city of Harare after police found 31 used condoms in their car. At least nine men have come forward with similar stories of being attacked. One of the alleged victims told his story on a popular national talk show called Maichiamba. He said he was raped after accepting a car ride from the women.
"One of the women threw water in my face and they injected me with something that gave me a strong sexual desire. They stopped the car and made me have sex with each of them several times, using condoms," he said. "When they had finished they left me in the bush totally naked." He said he went to the hospital to be treated for the drug's effects and called the police.
"I've noticed that the men who have come forward are really traumatized…" Kelvin Hazangwi, National Director of the Padare Menâ's Forum on Gender, tells  "Some of them, their partners left them and they could not go back to their families…"
The women have denied the charges, claiming they are prostitutes and did not have time to dispose of the condoms. Cousins Rosemary Chakwizira, 24, and Sophie Nhokwara, 26 told local media that since being out on $300 bail, they've been in hiding after having their lives threatened.