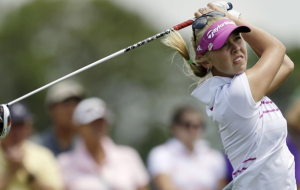 American Jessica Korda stunningly fired caddie Jason Gilroyed on the ninth hole Saturday, creating a reality television-like sideshow in the third round of the 2013 Women's U.S. Open, which otherwise would have been headlined by World No. 1 Inbee Park.
'Temporarily drafted her boyfriend'
The talented South Korean shot a 71, the only under-par round Saturday at the U.S. Open. Yet while Inbee Park rested four shots clear of I.K. Park heading into Sunday at Sebonack Park Golf Course in Long Island, N.Y., all the talk was about Korda's bold move.
Spiraling out of contention at five-over on the front nine, Korda, the daughter of 1998 Australian Open (tennis) winner Petr Korda, decided things weren't quite working out with Gilroyed, whom she could be seen having issues with on the front nine. The 20-year-old told ESPN that she had a couple of disagreements and wasn't in the right state of mind. Rather than wait until the end of the round, Korda fired him on the spot and temporarily drafted her boyfriend, Johnny DelPrete, from the gallery a moment later.
'Improved significantly'
Following the difficult decision, it appeared that Korda's state of mind improved significantly. With Gilroyed gone and DelPrete put to work, Korda settled down, playing the back nine at the challenging Sebonack layout at one-under. The reversal left Korda at one-over for the tournament and in a tie for sixth, 11 shots back of Park.
While DelPrete couldn't have expected to end his day between the ropes at Sebonack on Saturday, it's certainly not unfamiliar territory for the professional golfer who competed on the Web.com Tour last year.
What can you say about golfers firing their caddies in the middle of a competition? Good or bad decision?
Source: James McMahon | Bleacher Report
Image: Golf Week