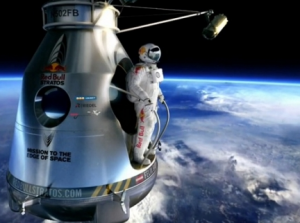 Austrian Felix Baumgartner has become the first skydiver to go faster than the speed of sound, reaching a maximum velocity of 833.9mph (1,342km/h). In jumping out of a balloon 128,100ft (24 miles; 39km) above New Mexico, the 43-year-old also smashed the record for the highest ever freefall.
He said he almost aborted the dive because his helmet visor fogged up. It took just under 10 minutes for him to descend. Only the last few thousand feet were negotiated by parachute. Once down, he fell to his knees and raised his fists in triumph. Helicopter recovery teams were on hand moments later.
'You become so humble'
"Let me tell you – when I was standing there on top of the world, you become so humble. You don't think about breaking records anymore, you don't think about gaining scientific data – the only thing that you want is to come back alive," he said afterwards at a media conference.
There was concern early in the dive that Baumgartner was in trouble. He was supposed to get himself into a delta position – head down, arms swept back – as soon as possible after leaving his capsule. But the video showed him tumbling over and over. Eventually, however, he was able to use his great experience, from more than 2,500 career dives, to correct his fall and get into a stable configuration. Others who have tried to break the records have lost their lives in the process.
'Invaluable data'
Baumgartner's team built him a special pressurized capsule to protect him on the way up, and for his descent he wore a next generation, full pressure suit made by the same company that prepares the flight suits of astronauts. The researchers on the Red Bull Stratos project say it has already provided invaluable data for the development of high-performance, high-altitude parachute systems, and that the lessons learned will inform the development of new ideas for emergency evacuation from vehicles, such as spacecraft, passing through the stratosphere.
Were you among those who watched in awe and tension as Felix Baumgartner took his record-breaking space dive? Share your thoughts about this daredevil scientific stunt!
Source: BBC News
Image: Enstarz