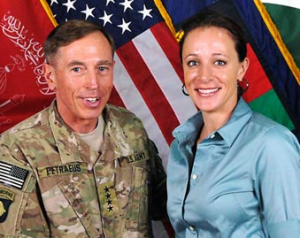 Biographer Paula Broadwell could be facing questions about whether she revealed classified information about the Libya attack that she was privy to due to her relationship with then-CIA Director David Petraeus.
'The Benghazi situation'
At an Oct. 26 speech at her alma mater, the University of Denver, on the same day that Fox News reported that the rescue team at the CIA annex had been denied help, Broadwell was asked about Petraeus' handling of the Benghazi situation. Her response was reported originally by Israel's Arutz Sheva and Foreign Policy's Blake Hounshell. Broadwell quoted the Fox News report when she said:
"The facts that came out today were that the ground forces there at the CIA annex, which is different from the consulate, were requesting reinforcements… Now, I don't know if a lot of you heard this, but the CIA annex had actually, um, had taken a couple of Libyan militia members prisoner and they think that the attack on the consulate was an effort to try to get these prisoners back. So that's still being vetted."
'Knew almost immediately'
Broadwell's affair with Petraeus was likely known to Holly Petraeus, according to family friends. The FBI reportedly knew about it months beforehand and White House Counterterrorism adviser John Brennan reportedly was aware that there was a relationship as early as the summer of 2011. The White House strongly denied that Brennan was aware so early.
Broadwell, whose affair with Petraeus reportedly ended earlier this year, continued to serve as an informal spokesman for the CIA director. She suggests in her Denver speech that Petraeus knew almost immediately that the attack was a terror attack — possibly to free militia members. A few days later, Petraeus testified in a closed session to Congress that the attack was due in large part to an anti-Islam video and a spontaneous uprising, according to reports from the hearing.
Amid all these confusion, do you believe that Paula Broadwell had indeed leaked classified information during her speech? And what was the CIA really up to in Benghazi?
Source: Fox News
Image: The Guardian