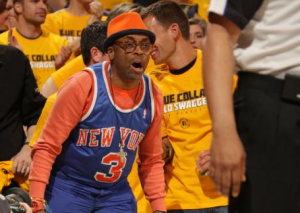 According to Mike Wells of the Indianapolis Star, not even a $40,000 offer from New York Knicks superfan Spike Lee was enough to get one Indiana Pacers supporter to part with his courtside seats for Game 3.
'Most Wanted'
"Spike Lee reportedly offered $40K for four tickets next to Pacers bench for tonight's game, but seat owner Stewart Reed turned him down.".
It's a little-known fact that most post offices in Indiana feature a picture of Lee tacked to the "Most Wanted" bulletin boards behind the counter. In addition, most restaurants lose their licenses if they serve him food.
'Barking up the wrong tree'
In other words, if he wanted a favor from a Pacers fan, Lee was barking up the wrong tree. Besides, we're painfully close to the anniversary of the moment that set Knicks and Pacers fans at each others' throats in the first place.
Lee might be responsible for He Got Game, but he certainly doesn't "got ticket," which is a delightfully ironic development.
If you were Stewart Reed, would you also turn down the $40K offer for your courtside seats? Or, would you instead forget that you were a Pacers fan and happily walk away with the 40 grand? Feel free to share your thoughts and opinions with us!
Source: Grant Hughes, Bleacher Report
Image: Tweet Buzz