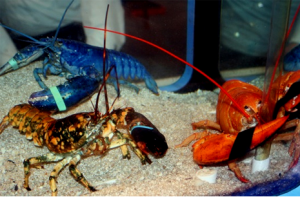 When a 100-pound shipment of lobsters arrived at Bill Sarro's seafood shop and restaurant last month, it contained a surprise — six orange crustaceans that have been said to be a 1-in-10-million oddity.
Reports of odd-colored lobsters used to be rare in the lobster fishing grounds of New England and Atlantic Canada. Normal lobsters are a mottled greenish-brown. But in recent years, accounts of bright blue, orange, yellow, calico, white and even split lobsters — one color on one side, another on the other — have jumped. It's now common to hear several stories a month of a lobsterman bringing one of the quirky crustaceans to shore.
Lobsters come in a variety of colors because of genetic variations. It's been written that the odds of catching a blue lobster are 1-in-2 million, while orange comes in at 1-in-10 million. Yellow and orange-and-black calico lobsters have been pegged at 1-in-30 million, split-colored varieties at 1-in-50 million, and white — the rarest of all — at 1-in-100 million. But those are merely guesses, and nobody knows for sure. What is known is that colored lobsters have shown up in greater frequency in certain areas over the years.
Aside from their color, the lobsters are apparently normal in all other ways, Bayer said. They all turn red when they're cooked, except for the white ones since they don't have any pigment, and diners wouldn't notice a difference.
Scientists say it's possible the lobster population as a whole has a greater percentage of misfits than it did in years past. The off-colored lobsters are more susceptible to predators because they stick out more on the ocean bottom, rather than blending in like normal ones, said Diane Cowan, executive director of The Lobster Conservancy in Friendship, Maine. Lobstermen have brought Cowan countless colorful lobsters over the years. The prettiest one, she said, was pink and purple.
Why do you think there is a surge in finding oddly-colored lobsters nowadays? Would you want a lobster for a pet?