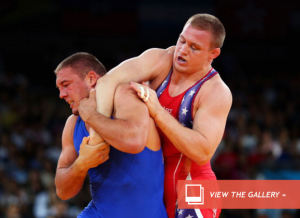 The International Olympic Committee is dropping wrestling from competition after the 2016 Games in Rio de Janeiro, the result of some elaborate secret ballot it holds every so often to determine its 25 "core sports." In part because golf and rugby are coming to the Olympics, something had to go. This time it was wrestling, apparently edged out by the modern pentathlon for survival.
'History of rampant corruption'
This is a poor decision and it would be only slightly less poor of a decision if it was modern pentathlon (a five-event competition of fencing, horse riding, swimming, running and shooting) that got the boot instead. It's golf that should never have been granted access in the first place.
One of the problems with the IOC is that its history of rampant corruption makes any of its decisions suspect. Who knows why each voter voted as they did, but it doesn't take much of a skeptic to think this was a political – and thus graft-filled – process. Each sport was forced to campaign for itself and, thus, against the others.
'Primal activity'
In the end, wrestling probably didn't stand a chance, in part, because the IOC is forgetting another of its chief positives. The Olympics are great at celebrating – and reminding everyone – what isn't necessarily a sport, but a primal activity.
It's good to have a speed-skating race because we've had skating races since man invented the skate, and winning that race at the Olympics makes someone a legend in that sport. The same way it does, or did, in wrestling. Winning the gold in golf won't ever be treated that way. That, more than anything, is why the IOC blew this one.
Do you agree or disagree with the IOC's decision to boot wrestling out of the Olympics? Was it a poor decision on their part?
Source: Dan Wetzel, Yahoo Sports
Image: Discovery News