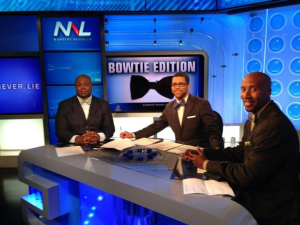 It seems Hugh Douglas and Michael Smith, two of the co-hosts for ESPN's Numbers Never Lie program, took the network's push to "embrace debate" a little too literally this Friday while in Orlando for the National Association of Black Journalists convention.
'Very ugly'
Sources privy to the situation told The Big Lead that Douglas and Smith were involved in a heated argument at a Sports Task Force party in Orlando's House of Blues. The altercation became so intense that parties had to intervene and break the two men up.
It's unclear whether any punches were thrown or whether the situation got physical in any nature. However, it's clear that tensions boiled over. It got to the point where one source questioned whether Douglas would be able to return to the set. Someone who saw a majority of the action described the scene as "very ugly."
'Poor ratings'
It's unclear whether there had been tensions in the past between the two. Douglas tweeted a picture of himself, Smith and Hill all sitting at a panel Friday for the NABJ, which hosts a yearly convention aimed at inspiring black journalists and celebrating their accomplishments. The convention ran through Sunday.
Numbers Never Lie debuted in September of 2011. Smith has been the show's only mainstay, as it has been shuffled multiple times due to poor ratings and departures.
Do you think this ugly fight between Hugh Douglas and Michael Smith will be resolved soon? Feel free to share your input with us!
Source: Tyler Conway | Bleacher Report
Image: International Business Times