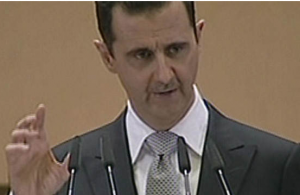 The U.N. Security Council this week will take up a draft resolution proposed by Morocco that calls on Syrian President Bashar al-Assad to step down and transfer power.
State Department spokeswoman Victoria Nuland said the draft demands the government end the violence, pull back its heavy weaponry from residential areas, allow monitors to operate freely, release political prisoners and allow the news media to operate.
The proposal comes after the Arab League suspended a mission to monitor whether al-Assad was abiding by an agreement to end the crackdown, which has left thousands of civilians dead. Morocco's draft resolution calls for al-Assad to step down and supports "full implementation" of the Arab League recommendations on Syria. That would include calling on Syria to form a unity government within two months.
The violence in Syria erupted in Daraa last March, after a number of teenagers and children were arrested for writing political graffiti that opposed the government. The unrest spread into an uprising, part of the "Arab Spring" taking place in several countries across the the Middle East and North Africa.
The United Nations estimated last month that more than 5,000 people have died since March. Opposition groups estimate a higher death toll, with counts near or exceeding 7,000 people.
Source: CNN
Image: Middle East Live