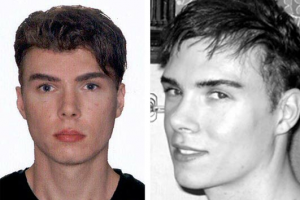 Luka Rocco Magnotta, the porn actor who Canadian authorities say sent the dismembered body parts of a student to Canadian politicians, has been captured in Berlin, police there said.
Magnotta was arrested in an Internet cafe on Monday, according to Germany's Bild newspaper. German police spokesperson Stefan Rieldich said someone at the cafe recognized Magnotta and called authorities, who took him into custody without incident.
The international manhunt for Magnotta began last week, after police say the so-called "Canadian Psycho" fled to Paris. Authorities had tracked Magnotta to France through his cellphone. Witnesses then spotted him on a bus to Berlin.
Magnotta, 29, faces first-degree murder charges in Canada in connection with the killing of Jun Lin, a 33-year-old Concordia University student from China. He is also accused of videotaping the gruesome murder and posting it online. Magnotta allegedly mailed Lin's severed body parts to Ottawa police and politicians, including Canadian Prime Minister Stephen Harper, who received a severed foot. Authorities searched Magnotta's Montreal apartment, where they found a torso stuffed in a suitcase. Not all of the body parts have been recovered.
Magnotta promoted himself as a gay porn star. According to Interpol, he used several aliases, including Eric Newman and Vladimir Romanov.
How do you feel about the crime that Magnotta allegedly committed? Do you think he is really a psycho?
Source: Yahoo News
Image: The Sun