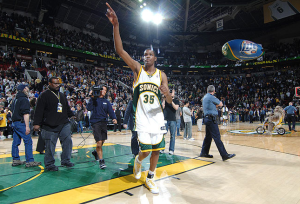 With the finalization of the Sacramento Kings' sale to a Seattle-based ownership group, the NBA's relocation committee will overwhelmingly ratify the franchise's move to Seattle for the 2013-14 season, league sources told Yahoo! Sports.
'Sonics name and colors'
The new ownership group, led by Chris Hansen and Steve Ballmer, will purchase 65 percent of the Kings at a franchise valuation of $525 million. The new owners will file for relocation to Seattle before the March 1 deadline, sources told Yahoo! Sports. The Seattle group's plan is to play the next two seasons in Key Arena before moving into a new $500 million arena in downtown Seattle in 2015, sources said. The new Seattle owners will bring back the franchise's longtime Sonics name and colors.
The relocation committee is chaired by Oklahoma City Thunder owner Clay Bennett, and includes Washington's Ted Leonsis, Minnesota's Glen Taylor, Utah's Greg Miller, Miami's Mickey Arison, Indiana's Herb Simon and San Antonio's Peter Holt. Bennett moved the Sonics from Seattle to Oklahoma City in 2008.
'Exit the league'
The NBA's Board of Governors support this ownership group, want a team back in the Seattle market and will approve the sale at the next league meeting, sources said.
While NBA commissioner David Stern did work dutifully to find a way to keep the Kings in Sacramento for several years, the league was pushing the Maloof family to sell their 53 percent ownership share, and wanted badly for them to exit the league as owners, sources said. The Seattle contingent is purchasing the Maloofs' portion of the franchise and a 12 percent share from minority owner Bob Hernreich.
Do you think relocating the Kings to Seattle is a good idea? Would you still cheer for this team even if they would be called "Sonics" already?
Source: Adrian Wojnarowski, Yahoo Sports
Image: Sports Illustrated